Cookies & Privacy Policy
The privacy of your personal information is of the utmost importance to Harsco Minerals International and Harsco Metals Group Ltd, a division of Harsco Corporation ("Harsco", "we", "us" or "our", as appropriate). This Privacy Policy covers the information that we collect about you or that you provide to us online through our website located at www.harsco-m.com ("Site" or "Website"), how we use such information, and the choices you have regarding our use of, and your ability to review and correct the information. Please read our complete Privacy Policy. By visiting our Website, you agree to be bound by the terms and conditions of this Privacy Policy.
USE OF COOKIES
Our website uses cookies. A cookie is a small file of letters and numbers that we put on your computer. These cookies allow us to distinguish you from other users of the website which helps us to provide you with a good experience when you browse our site.
GOOGLE ANALYTICS
We use analytical cookies which allow us to recognise and count the number of visitors and to see how our visitors move around our site. This helps us to improve the way our website works, for example by making sure users are finding what they need easily. You can read more about the individual analytical cookies we use and how to recognise them by visiting this link.
COLLECTION AND USE OF PERSONAL INFORMATION
Information you provide: We may collect your personal information such as your name, contact information and e-mail address when you contact us requesting more information about Harsco, our products and services or when you make an inquiry through our Website. We will only use this information to contact you in order to answer your questions and requests or to provide you with the information which you have requested.
Technical information: When you visit our Website, we may collect, using electronic means, technical information that does not by itself identify a specific individual. This information (sometimes referred to as "non-personally identifiable information") may include the IP address of your computer and which browser you used to view our Site. This technical data is aggregated and used to measure and improve the effectiveness of our Website. We do not attempt to combine this technical data with the personal information we collect on our Website. You can reset your browser to refuse the collection of certain information such as "cookies" (pieces of information that a website sends to your computer while you are viewing the website, which may then be stored on your hard drive so you can be recognized when you return to the same website) or to indicate when a cookie is being sent. Be aware, however, that some parts of the Site may not function properly if you refuse such collection.
The Site may contain links to other sites. Harsco does not endorse, approve, certify, or control these other websites, and we do not guarantee the accuracy, completeness, efficacy, or timeliness of the information contained on these sites. Harsco is not responsible for the privacy practices or content of such websites. Any information you provide to one of these other websites will be governed by the privacy policy of that website. We strongly recommend that you refer to each website's privacy policy before giving out any personal information on their site.
SHARING OF PERSONAL INFORMATION
Unless we have your express consent, we will not sell, rent, share or trade your personal information to any third party, except to internal service providers that we use to facilitate or outsource one or more aspects of the operation of our Website. These internal service providers are subject to confidentiality agreements with us and other legal restrictions that prohibit their use of the information we provide them for any purpose other than to facilitate the specific outsourced related operation, unless you have explicitly agreed or given your prior permission to them for additional uses. We may transfer your personal information to a third party in the context of a business transaction such as a sale of our assets, in which case, we will ensure that the third party has agreed to the terms of this Privacy Policy prior to the said transfer.
From time to time, we may be required to provide personal information in response to a valid court order, subpoena, government investigation, or as otherwise required by law. We also reserve the right to report to law enforcement agencies any activities that we, in good faith, believe to be unlawful. We may release certain personal information when we believe that such release is reasonably necessary to protect the rights, property, and safety of others and ourselves.
SECURITY OF PERSONAL INFORMATION
We will use reasonable security measures to protect your personal information against unauthorized access. Please be careful whenever sending personal information to Harsco via the Internet, as no data transmission over the Internet can be guaranteed to be 100% secure. As a result, while we strive to protect your personal information, we cannot guarantee or warrant the security of any information you transmit to or from our Site, or that this information will not be lost or used in a fraudulent manner and we encourage the use of encryption to communicate with us.
CHILDREN'S PRIVACY (UNDER THE AGE OF 13)
Harsco takes children's privacy seriously and wants children and parents to understand that our Site is not intended for children under the age of 13. If you are under the age of 13, please do not use this Site. We do not seek to collect personal information about children through our Site. If we become aware that a person submitting personal information to us through any part of our Site is a child under the age of 13, we delete the information as soon as we discover it and do not use it for any purpose, nor do we disclose it to third parties. Since we do not seek to collect any personal information about children, and we delete information collected inadvertently as soon as we discover that a child has submitted it, we typically retain no information about children that could be reviewed or deleted. If a parent requests review or deletion of information about their child before we have discovered and deleted the information, we will of course honor that request.
CHANGE IN PRIVACY POLICY
If there is any material change in our Privacy Policy, the revised statement will be posted on this Website. Regardless of any changes we make to our Privacy Policy, we will only use your personal information in accordance with the version of the Privacy Policy in place at the time you provided your information, unless you later give your express consent for us to do otherwise.
CONTACT FOR QUESTIONS OR CONCERNS
If you have questions or concerns regarding this Privacy Policy, or if you wish to review, edit your personal information or request that we delete personally identifiable information stored in the databases we actively use, please contact: inquiries-m@harsco.com. Please note that if you delete certain information, you may not be able to continue to access certain portions of our Site without entering additional information.
Unless restricted by law, we will take all reasonable steps to functionally delete your information from our database(s) upon request, although we may keep a copy for archival purposes for as long as necessary in our opinion. We will respond to your request to access, update or delete your information within thirty (30) business days. Before we are able to provide you with any information, correct any inaccuracies or delete any information, however, we may ask you to verify your identity and to provide other details (in a secure manner) to help us to respond to your request.
This Privacy Policy was last updated on June 8, 2012.
Please note that both the English and French versions of Harsco's Privacy Policy have equal legal value.
Find AgrowSil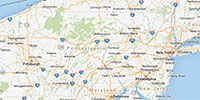 Looking for a Distributor in your area? Use our locator to find your nearest...
Read more...