Order AgrowSil
AgrowSil is sold in bulk powder form, and is available for pick up at our manufacturing plants, at Sarver, PA (Butler, PA), Steelton, PA (Harrisburg, PA), Muscatine, IA (Quad Cities) and Pittsboro, IN.
You can also pick up from one of our distributors. Click here to find your nearest location.
We are happy to accept payment by invoice, check or credit card.
For a price quote or further information about buying AgrowSil, call our toll-free number or fill in the form below.
Find AgrowSil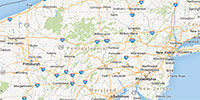 Looking for a Distributor in your area? Use our locator to find your nearest...
Read more...